Ecolam Resin
Next generation fast setting vacuum bagging resin with zero styrene or methyl vapor emissions, very low odor, good colour clarity offering high performance combined with ease of use for safer work environment. Suitable for all types of reinforcement materials used in fabrication workshops.
LimbArt Resin
The LimbArt resin has a higher viscosity that produces the smooth and glossy surface finish. The cured colour is clearer, helping to make the graphics "POP". This laminating resin is strong and tough, formulated to displace the slow curing, expensive two part resins fabricated with graphic images on the outer surface.
Epox-Acryl Resin
We are the proud manufacturers and distributors of the Epox-Acryl Laminating Resin, the innovative resin specifically formulated for the Orthotic and Prosthetic professional. Safe for use against skin when cured, Epox-Acryl is the latest in new generation Acrylic / Epoxide thermosetting laminating resins, offering advantages over all other resins in the industry.
Thermacryl Resin
A high quality THERMOFORMABLE and versatile vacuum bagging polymer matrix resin that produces exceptional  physical properties when fully cured at room temperature, as well as ease of use for the fabrication of all types of containment sockets and orthopedic parts that may need to be "heat relieved" after fabrication.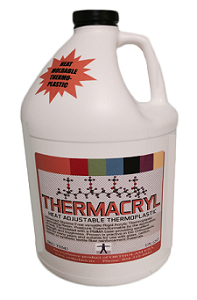 Better with Braid - The Strength is in the Braid
Introducing our NEW medium weight Fiberglass Braided Sleeving.
Here are some advantages of braided sleeving over knitted reinforcement stockinette:
• Braids provide much greater stiffness than knits for the same matrix weight.
• Braids produce fabricated sockets with much lower weight.
• Braids are made using much higher modulus fibers.
• Braids provide greater impact and flexural strength in composites.
• Braids are far superior for fabricating thin wall composite parts.
Braided fiberglass is a much better choice over knitted fiberglass/nylon products for reinforcing Prosthetic sockets. You can fabricate sockets that are much stiffer, thinner and lighter than with knitted stockinette.
Braided fiberglass sleeving produces sockets that are just as strong as those made with carbon fiber with similar layups, but much lighter and stiffer than when using knitted tubular reinforcement products.
Using fiberglass braid for the outer reinforcement layer of your socket, allows you to choose whatever color pigment you need for your resin. (i.e. a hybrid layup using a combination of carbon and fiberglass braid).
We supply a full range of braided fiberglass biaxial sleeving covering the following LAY FLAT sizes:
| | | | |
| --- | --- | --- | --- |
| Item Code | 45 Deg LF Size cm/in | LF Size Range cm | Circumference Range cm |
| GBSM8 | 8 cm / 3" | 4 – 10 cm | 8 – 20 cm |
| GBSM12 | 12 cm / 5" | 5 – 14 cm | 10 – 28 cm |
| GBSM20 | 20 cm / 8" | 8 – 20 cm | 16 – 40 cm |
| GBSM28 | 28 cm / 11" | 13 – 31 cm | 26 – 62 cm |
| GBSM36 | 36 cm / 14" | 18 – 42 cm | 36 – 84 cm |
| GBSM44 | 44 cm / 17" | 25 – 50 cm | 50 – 100 cm |
Carbon Braided Biaxial Sleeving
Product Code: CBS8, CBS16, CBS32, CBS40
Designed to decrease mass and lay up fabrication time of laminations whilst increasing strength and rigidity. These materials provide increased part performance, decreased manufacturing time and a more cost effective solution to practitioner's laminating needs.
Fibreglass Braided Biaxial Sleeving
Product Code: GBS16, GBS24, GBS32
Designed to decrease mass and lay up fabrication time of laminations whilst increasing strength and rigidity. These materials provide increased part performance, decreased manufacturing time and a more cost effective solution to practitioner's laminating needs.
We have a full range of PVA tapered vacuum bagging sleeves, film, repair tape and Latex Isolation Sheaths in stock at very competitive prices;
Prefabricated from the best grade of fresh PVA film
80 micron film thickness with one face matt finished
Fine even welded seams end to end
Plaited and sealed in zip lock bags ready for moistening
All sleeves are 1050mm in length
PVA Sleeves: (packaged 10 plaited sleeves in a zip lock bag)
PVA4 (4 inch LF) 100 X 50 X 1050mm
PVA6 (6 inch LF) 150 X 50 X 1050mm
PVA8 (8 inch LF) 200 X 50 X 1050mm
PVA10 (10 inch LF) 250 X 50 X 1050mm
PVA12 (12 inch LF) 300 X 50 X 1050mm
PVA14 (14 inch LF) 350 X 50 X 1050mm
PVA Repair Tape: 19mm wide clear stretch tape on a 33 m roll.
50mm wide Coroplast PVC adhesive tape on a 25m roll.
PVA Bag Sealing Iron with Teflon cover 220Vac
PVA film: (on a roll)
We also sell PVA film in roll lengths with a width of 1050mm and a film thickness of
80 micron with one face matt finished.
Nyglass Stockinettes
Combines the lightweight strength of fibreglass with the elasticity of nylon. Cost-saving choice for everyday sockets. With a blend of 65% fibreglass and 35% stretch nylon it works well with polyester and acrylic resins for a smooth appearance without any ribs or runs.
Form fitting with 230% stretch.
Sizes: 7cm, 9cm, 12cm, 15cm and 20cm.
Roll size 1kg
Cotton Stockinette
100% Natural long staple cotton knit
for maximum stretch. Natural cotton colour,
supplied in 20 metre rolls.
Available in 8 sizes: 2.5cm, 5cm, 7.5cm, 10cm, 15cm, 20cm, 25cm and 30cm.
| | | |
| --- | --- | --- |
| Size | Laid Flat Width in cm | Stretch Width in cm |
| Arm | 7 | 14 |
| Small | 10 | 20 |
| Medium | 12 | 30 |
| Large | 15 | 40 |
| X-Large | 20 | 50 |
Feather Stretch – Quick Release Nylon Laminations
Helpful Suggestions:
For Vacuum Forming with Plaster Molds
Cut enough material to cover the mold with two layers.
Pull one layer, twist, apply second layer, and go!
For Vacuum Forming with Foam Molds
Apply 2-3 layers and spray surface with water OR
Apply 4-5 layers without spraying water
When possible, lower oven temperature to 375' Fahrenheit
For Final Lamination
Use 3-4 layers of FeatherStretch as the initial and outer layer of laminations to create a smooth finish.
OTHER LAMINATION MATERIALS
Pigment Pastes – 500g - lamination
We carry a range of laminating resin pigment pastes in stock.
We recommend adding 2%-3% paste by mass to achieve the correct colour tone.
Rigid Fabricating PU Foam
Product Order Code:            Quantity:
RFF4 – 4Kg Kit            2Kg Part A +2Kg Part B
RFF10- 10Kg Kit          5Kg part A + 5Kg part B
RFF is an easy to use two component, one to one ratio, rigid polyurethane fabricating foam which is strong and evenly textured and can be cast onto the distal end of a Prosthetic socket for controlling the attachment and alignment of connecting socket attachment blocks and devices.
Triaxial Carbon Fabric
Product Code: CTF110 Aerial mass: 417 grams per sq. metre
Prosthetic limb socket reinforcement and other advanced technology applications.
Modelling Clay 500g ~ White
White plasticized modelling clay 500g.