Description
The Iowa Brace is worn to maintain a clubfoot correction and to prevent recurrence (relapse) of clubfoot after the foot has been fully corrected using the Ponseti method. Children wear the brace on both feet even if they only have one clubfoot. The shoes are positioned to turn out 60-degrees for a corrected clubfoot, and 30-degrees for a normal foot.
Designed by a team of renowned specialists at the University of Iowa, the Iowa Clubfoot Brace has the advantage of having been designed by experts who used their insights from decades of clinical experience treating children born with Clubfoot.
Each shoe has an AFO insert, a tongue, and straps with enhanced buckles. The open-toe design allows room for the foot to grow between changes in shoe size. The shoes come in twelve sizes. Typically the shoe is changed when the large toe is past the platform of the shoe.
The Iowa Flexbar is made of a durable and flexible plastic that allows the child to kick for additional comfort while wearing the brace. This movement also helps the child stretch and strengthen the affected tendons and muscles.
Innovative, Comfortable and Affordable
The team at the University of Iowa developed the Iowa Clubfoot Brace with an emphasis on lifestyle and comfort as well. It was especially important to set a new wearability standard because discomfort and skin irritations are two of the most common reasons for discontinued use among patients.
The Iowa Brace is constructed of a breathable mesh that maximises ventilation and provides lightweight durability. Its cushioned tongue helps prevent skin irritation on the top of the patient's feet, and eliminates the need for third-party add-ons. The one-of-a-kind contoured AFO insert features a cupped heel counter that stabilizes the foot to both reduce friction and promote proper usage.
The Iowa Flexbar and platforms are injection molded from fiber-reinforced nylon that is lightweight and safe for children. The Iowa Flexbar gives the child freedom to move each foot independently enabling them to stretch the muscles and tendons.
Click here to Download Sizing Information.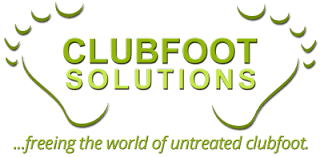 Dr. Ignacio Ponseti revolutionized the treatment of clubfoot while at the University of Iowa in the 1940s. He developed a non-invasive technique that utilized gentle manipulation and serial casting of the feet to successfully correct clubfoot without major reconstructive surgery. Today, the Ponseti Method is the international standard for clubfoot treatment with a 97% correction rate.
Dr. Ponseti's legacy lives on through Ponseti International Association and Clubfoot Solutions. The two organizations are working together to deliver the Ponseti Method to children everywhere, and hope that the Iowa Brace will finally realize Dr. Ponseti's dream of a high quality clubfoot brace for every child born with this deformity.
SIZES:
| | |
| --- | --- |
| 000 | 88MM |
| 00 | 92MM |
| 0 | 97MM |
| 1 | 102.1MM |
| 2 | 112.1MM |
| 3 | 122.2MM |
| 4 | 133.7MM |
| 5 | 143.7MM |
| 6 | 153.7MM |
| 7 | 163.6MM |
| 8 | 173.6MM |
| 9 | 183.6MM |